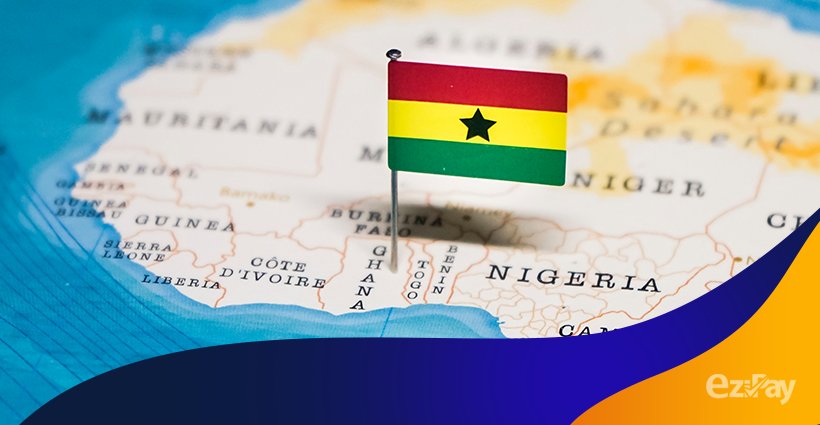 EziPay enables you to send money to Ghana smartly, unlike no other application, financial institution, or international money transfer organization. The existing methods of transferring money online to Ghana are technologically updated, and one can now wire transfer or remit money online through a bank or any other financial institution. But with their high remittance costs and transfer fees, they fail to surpass the new, instant and efficient ways of transferring money overseas.
EziPay is a cost-effective way to send money to Ghana to your friends and family. With less than 5% of remittance costs, EziPay is a pocket-friendly way to transfer money online.
Existing methods of transferring money online to Ghana are:
Banks – To wire money from your US bank account to a recipient bank in Ghana, you can use the wire services provided by most of the banks. The bank is responsible for transferring the money from one bank account held with them to another bank account.Most people use SWIFT services by their banks that call for banks to transition the transfer, and a lot of intermediary charges get involved while transferring the money this way.In submission, banks might be suitable for large transactions and the most secure way too. But from a wider perspective, they charge a large sum of fees, and the transfer can take quite a while to be completed. The currency exchange rate might be completely unfair.
Western Union – Outside of banks, Western Union is the oldest method of transferring money online to Ghana back to family and friends. The system has kept itself quite updated, and one can use the website or the app of the Western Union to transfer money overseas.You can have flexible money delivery options; that is, the money can be transferred to the bank account or can be sent to pick up at the store/nearest Western Union branch. The Western Union charges a little less fee compared to banks and comparatively has a small exchange rate mark-up. The major drawback is the money transfer time (4-5 days).
TransferWise – This UK company offers upfront charges that are minimum to a large extent in comparison with the banks. They provide an updated exchange rate on the currency. They have an easy to use interface, dynamic to various devices and can be easily handled from a handy device. The biggest drawback is the delivery time.
With all these advancements in technology, we expect a transaction to reflect in the recipient's bank account instantly. Well, that is possible now! Gone are the times when you had to wait for days to get your transaction made, not only within the countries but also across the borders.
Safe, cost-effective, and fast money transfer with EziPay:
EziPay is a pocket-friendly way to transfer money to your friends and family. With low remittance costs and the transparency of all expenses incurred, EziPay is the most cost-effective way of transfer money overseas.
The mobility of application enables us to access our bank account at any time and anywhere, and cater to the monetary emergencies of our families cross-border.
The transfers can be done in an instant way and are reflected in other person's EziPay account immediately.
EziPay money transfer uses a QR Code that assures us of the safety of the money and the transaction.
There is no need to keep hard copies of the transaction recipients. Every transaction is saved in the EziPay application itself and you can also download your transaction statements at any time.
Conclusion:
Banks do not have control over the intermediary costs, and they can use it to their advantage and hence charge explicitly. This is not the case with the EziPay mobile application. EziPay is an online money transfer solution that is safe, cost-effective, and fast.